Thursday, March 30, 2017
Reitz Union Grand Ballroom
Non-UF Attendee: $75 (Early-Bird $55)
 The UF Entrepreneurship & Innovation Center proudly invites students, staff, faculty, and members of the community to attend the 2017 Women's Entrepreneurship Symposium. Come learn, network & celebrate the empowering potential of women's entrepreneurship. This event will feature speakers and panels, with a keynote presentation by Barbara Baekgaard, co-founder of Vera Bradley.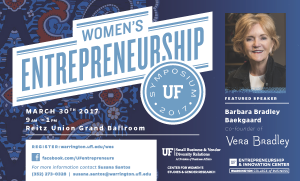 "Women changing the world one venture at a time"
For Additional Information, please contact Susana Santos or call 352.273.0328.
Be sure to Register Today!