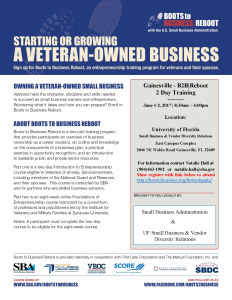 Are you a Veteran interested in starting or growing your business?
If so, you don't want to miss out on this "Boots to Business Reboot Training".
This is a 2 part training program that provides participants an overview of business ownership as a career vocation, an outline and knowledge on the components of a business plan, a practical exercise in opportunity recognition, and an introduction to available public and private sector resources.
For additional information, contact Natalie Hall at (904) 443-1902 or natalie.hall@sba.gov.  You must register in order to attend.
Click HERE to register.