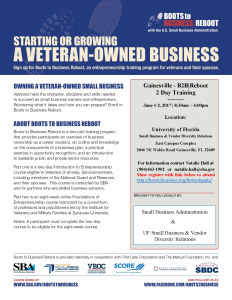 Are you a Veteran interested in starting or growing your business?
If so, you don't want to miss out on this "Boots to Business Reboot Training".
This is a 2 part training program that provides participants an overview of business ownership as a career vocation, an outline and knowledge on the components of a business plan, a practical exercise in opportunity recognition, and an introduction to available public and private sector resources.
Part one is a two-day introduction to Entrepreneurship course eligible to Veterans of all eras, Servicemembers, including members of the National Guard and Reserves, and their spouses. This course is instructed by SBA and its partners who are skilled business advisors.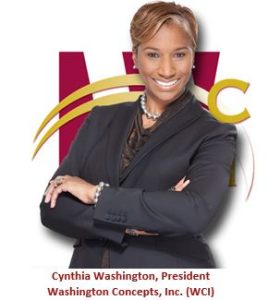 Cynthia D. Washington, President of WCI will be facilitating some of these workshops. Mrs. Washington has over 20 years of experience and is able to give expert advice on small business and government contracting topics. She is also able to identify the needs and address the issues that are important to start-ups, developing and excelling small businesses.
For over Two Decades, the WCI Government Contracting NETWORK has been successful in assessing the business and marketing needs of small businesses Nationwide and propelling them into their next dimension. WCI is the best firm to not only prepare small businesses for Government Contracting, but once they are prepared, we can expedite their efforts to develop business by presenting them directly to WCI Contacts who are interested in contracting with small businesses. Learn more here.
For additional information about registering for the training, contact Natalie Hall at (904) 443-1902 or natalie.hall@sba.gov.  You must register in order to attend.
Click HERE to register.