Parrish McCall Constructors, Inc.
Date: Tuesday, April 11, 2017
Time: 5:00pm – 7:00pm
Location: 3455 SW 42nd Avenue  Gainesville, FL 32608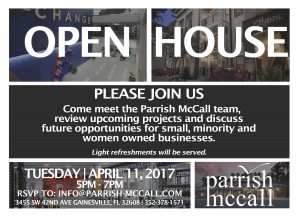 Parrish McCall Constructors will be hosting an open house for Small, HUB Zone, Minority, Small Disadvantaged, Veteran, Service-Disabled Veteran and Women-owned businesses at the Parrish McCall office. The meeting will provide an opportunity to meet the Parrish McCall team, review upcoming projects and discuss future opportunities.  Light refreshments will be provided.  Please RSVP to info@parrish-mccall.com.