The Office of Supplier Diversity and the University of Florida's Small Business & Vendor Diversity Relations Division are proud to present the 2018 Gainesville Supplier Diversity Exchange on March 8.
The Gainesville Supplier Diversity Exchange will include a panel discussion, networking opportunities, and one-on-one interviews. During the Business Exchange portion, small business owners can market their goods and services directly with local and state buyers at scheduled one-on-one interviews.
University of Florida Reitz Union
655 Reitz Union Drive
Gainesville, FL 32611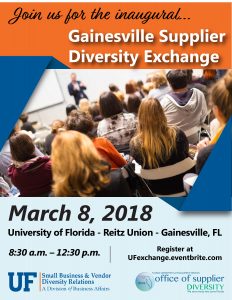 For More Details, click HERE.